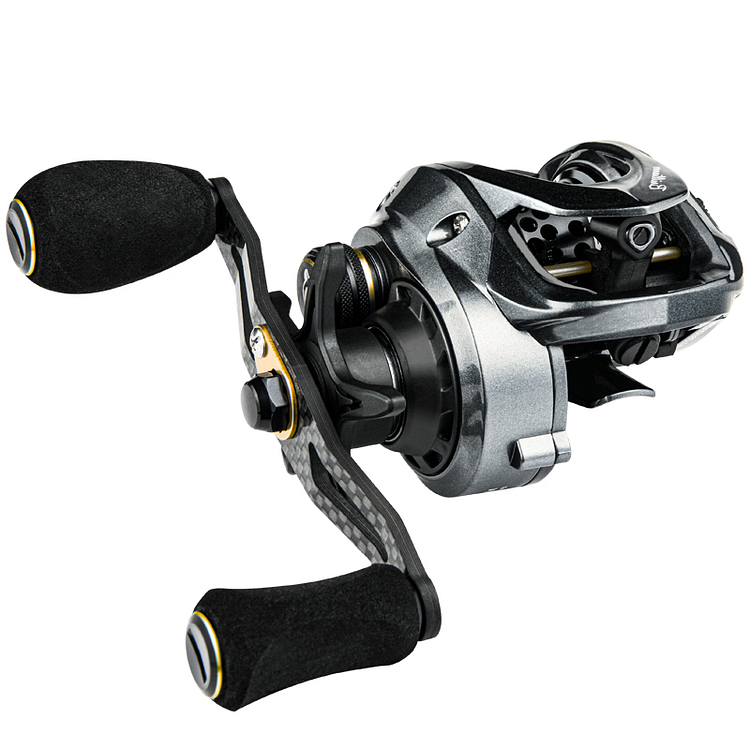 FEATURES:
1. The new dynamic magnetic brake system dynamically controls the magnetic brake of the wire cup according to the speed of the wire cup to realize the dynamic balance between the non-explosion line and the throwing distance.
2. High-precision machining hollow' short-axis ultra-light wire cup' reducing the starting inertia.
3. The outlet hole moves forward to reduce the line resistance.
4. Eight-point magnetic brake' 30-speed precision adjustment.

Specification:
GH100 Frame: Carbon Fiber Brake knob: Carbon Fiber Hand Button: Carbon Fiber
Gear Ratio: 7.2: 1 Weight: 160g Ball bearings: 11 + 1 Braking force: 4.5 KG
Line Capacity: 0.165 mm / 100 m GH100 alloy BFS spool and turbine magnetism brakes GH150
Frame: Nylon Brake Rotary: Aluminum Alloy Gear Ratio: 7.2: 1 Weight: 217g Ball bearings: 11 + 1 Braking force: 8 KG Line Capacity: 0.28 mm / 150 m 0.33 mm / 115 m GH150 uses standard spool and standard magnetism brakes

Product List:
1* fishing reel
90-Day Return & Replacement Policy
Detailed instructions for replacement and returns are described as follows. And it takes effect after you purchase the item. Please check that if it matches your situation and whether your order is covered by our 90-day return & replacement policy.
The reasons that we support 90-day returns/replacement are as follows:
1. We sent an item that did not match your order or was wrong with your order
2. The product you received was damaged during shipping
3. The product you received is of poor quality/defective
The following reasons are not within the scope of 90-day returns/replacement policy, please read carefully before using our products
1. Damage caused by improper use, improper storage, or rough use
2. Product accessories are lost
3. The product has been used and cannot be sold again.
Return & Replacement Process
For returns, please contact our customer service team and follow the customer service guidelines for return and replacement. If you need help, please email our customer service:
[email protected]
When we accept your return, we will issue the refund back to the original payment method. Any promotional gifts and accessories also need to be returned with your item (if any are missing, please contact our customer for a timely explanation).
Return Address & Contract Number
Please contact our Customer service at email to get the return address.
Note: Your order can be cancelled or changed for free before it is shipped. If it has been shipped and can't be taken back, please refer to our 90-day return/replacement policy.