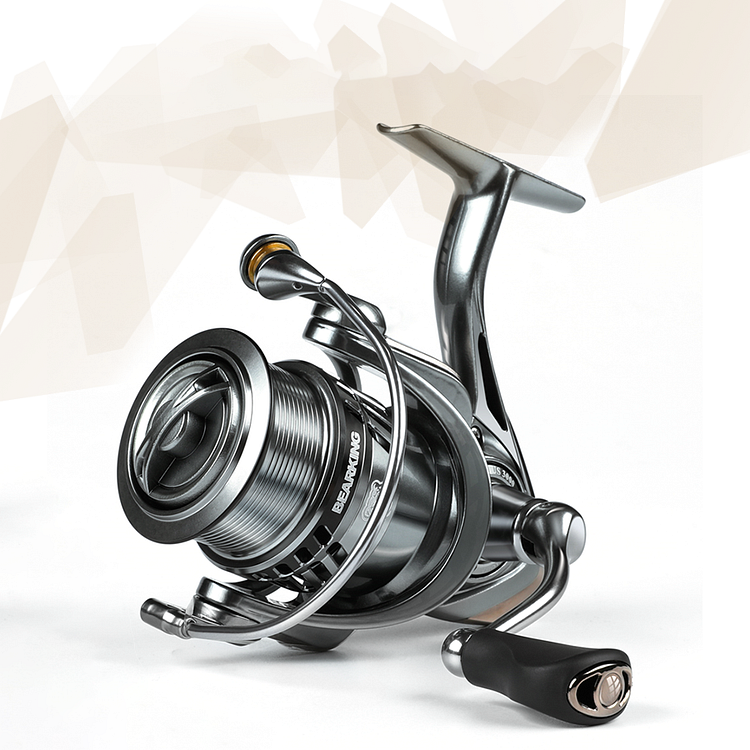 FEATURES:
1. Light & Power Technology: Ultra-thin Body Design and CNC Machined Aluminum Spool is ideal for long-time fishing.
2. Power Rotor: Upgrade Asymmetrical Rotor Design' Lightweight rotor' but stronger.
3. Micro Click Drag SettingProvide Powerful Drag Performance' up to 7kg.
4. Dual Main Ball Bearings Structure.
5. Alloy Line Guide: Durable heat-resistant alloy line guide' dissipates heat more efficiently.
6. Optimized Winding System: Smoother
7. Shields Drag Knob: Improve Waterproof and dustproof performance.
Product Details
Zeus 1000 | Gear Ratio: 5.2:1 | Weight: 183g | Bearings: 9BB | Max Drag: 4KG | Line Capacity: 0.104/100-0.102/70 0.4/100-0.6/70
Zeus 2000 | Gear Ratio: 5.2:1 | Weight: 242g | Bearings: 9BB | Max Drag: 7KG | Line Capacity: 0.165/120-0.185/100 0.8/130-1/100
Zeus 3000 | Gear Ratio: 5.2:1 | Weight: 250g | Bearings: 9BB | Max Drag: 7KG | Line Capacity: 0.185/150-0.205/120 1.2/150-1.5/120
Package List:
1pc * Fishing Reel;
1pc * Instructions;
Original Box Packing
Note:
1. All pictures are professionally color-coded' but due to the different ambient light and different display device settings' there may be some deviations between the pictures you see and the items themselves. Please understand.
2. The data is measured manually' there may be some deviation' but it does not affect the use.
90-Day Return & Replacement Policy
Detailed instructions for replacement and returns are described as follows. And it takes effect after you purchase the item. Please check that if it matches your situation and whether your order is covered by our 90-day return & replacement policy.
The reasons that we support 90-day returns/replacement are as follows:
1. We sent an item that did not match your order or was wrong with your order
2. The product you received was damaged during shipping
3. The product you received is of poor quality/defective
The following reasons are not within the scope of 90-day returns/replacement policy, please read carefully before using our products
1. Damage caused by improper use, improper storage, or rough use
2. Product accessories are lost
3. The product has been used and cannot be sold again.
Return & Replacement Process
For returns, please contact our customer service team and follow the customer service guidelines for return and replacement. If you need help, please email our customer service:
[email protected]
When we accept your return, we will issue the refund back to the original payment method. Any promotional gifts and accessories also need to be returned with your item (if any are missing, please contact our customer for a timely explanation).
Return Address & Contract Number
Please contact our Customer service at email to get the return address.
Note: Your order can be cancelled or changed for free before it is shipped. If it has been shipped and can't be taken back, please refer to our 90-day return/replacement policy.